About us
Learn more about your hair transplant specialist!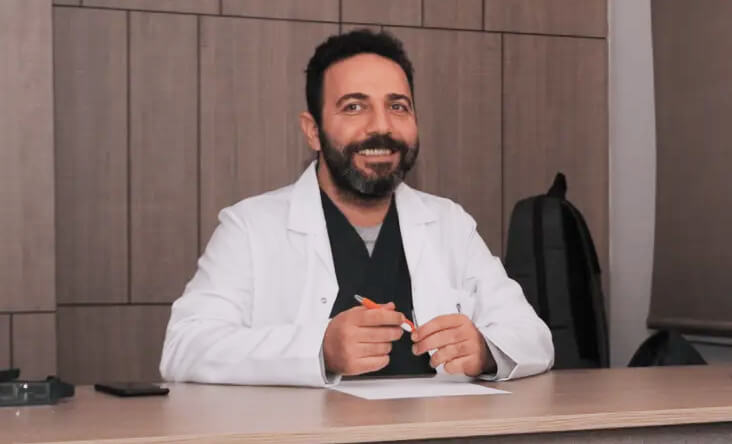 Dr. Taner Karahan
My name is Taner Karahan and I am born in Izmir, Turkey. I studied at the Gulhane Medical Faculty and graduated in 2004. From then on, I worked as an Emergency Room doctor for seven years in Izmir and Alanya. At the end of my Emergency doctor carrier I was looking for something else.
The last nine years I have been concentrating on hair transplantation procedures. It is an area which is very open to new developments and it made me excited that we see the significant results in an early stage. Nothing makes me happier then seeing a patient pleased with their result. Because I'm in contact with the patient until the last check-up I also get to experience their process. The best days are when I can see a patient getting their confidence back.
Lees meer over Dr. Taner
I like the way Hair Clinic Wolf treats people, because for us it's really important that you feel relaxed. Therefore I take all the time you need. It's also possible to have a video- or phone call with me before you decide to go to Turkey for a hair transplantation. That way I can explain the way we work and you can tell me all your wishes and expectations. Together we will decide what will give the best result. Sometimes expectations can be unrealistic or you might be unsuitable for a hair transplantation. In that case we will always be honest with you and explain the reasons, and suggest other options.
My team and I are specialised in DHI, a fantastic technique which we allows a high density result. Additionally, we perform FUE. When you have an intake with Arco or Lieselotte, they will take pictures of the top of your head and send them to me. Then I will explain to you or them which technique will give the best result and how many grafts you need.
My focus is quality, quality, quality. I don't make concessions to save on time. I will always go for the best results and maintain a personal approach. If you have any questions, you can always ask me. I'm looking forward to meet and help you!
Greetings Taner Karahan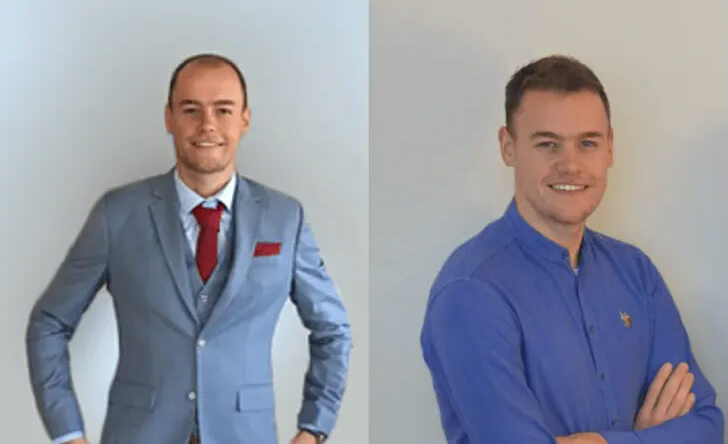 Arco
Op mijn negentiende begonnen mijn haren met uitvallen. Het werd steeds erger. Iedere dag keek ik in de spiegel en schaamde ik mij voor mijn inhammen. Het liefst droeg ik een pet. Op mijn vierentwintigste heb ik de knoop doorgehakt, ik wilde een haartransplantatie. Toen begon mijn zoekproces naar de aanbieder die het beste bij mijn wensen paste. Omdat het zo gangbaar is om voor een haartransplantatie naar Turkije te gaan, is hier mijn keuze ook naar uit gegaan. Ik ben in Nederland goed begeleid maar op het moment dat ik daadwerkelijk naar Turkije vertrok, werd ik aan mijn lot overgelaten. Op de behandeldag spraken de behandelend arts en het team geen woord Engels, dit voelde voor mij absoluut niet prettig. Ook heb ik veel pijn ervaren, voornamelijk bij het verdoven. Het ergste aan de behandeling vond ik dat ik maar een nummer was. Er was absoluut geen persoonlijke benadering maar massaproductie. Op dit moment wist ik dat het anders kon.
Lees meer over Arco
Het resultaat mag er zeker zijn, maar er zijn ook fouten gemaakt. Er zijn bijvoorbeeld multi grafts gebruikt voor mijn haarlijn, dit geeft absoluut geen natuurlijke look. Ook is er geen hoge dichtheid behaald. Mijn voor en na foto's geven een duidelijk verschil en hier ben ik dan ook absoluut heel blij mee. Ik heb nooit spijt gehad dat ik op vroege leeftijd een haartransplantatie heb ondergaan, nu kan ik er langer van genieten. De fouten die zijn gemaakt kunnen gelukkig hersteld worden. Voor de herstelbehandeling ga ik bij Dokter Taner Karahan.
Door mijn eigen ervaring weet ik hoe het is om dit proces te starten. Onze speerpunten zijn eerlijk, persoonlijk en transparant. Wij doen er alles aan om een hele persoonlijke benadering te geven en nemen de tijd. Het is bij ons absoluut geen massaproductie.
Ik zie er naar uit om jou te begeleiden bij het zoekproces of de daadwerkelijke haartransplantatie!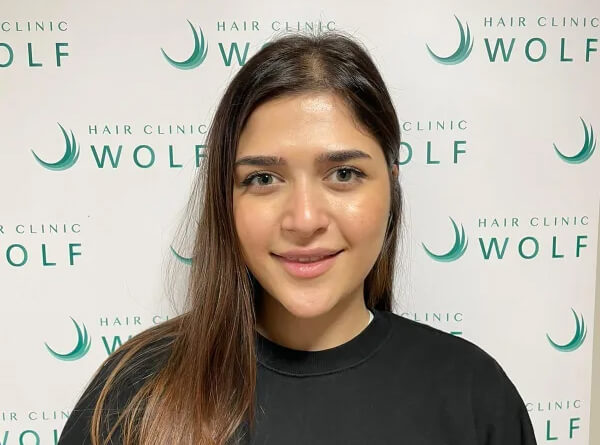 Ateyna
Mijn naam is Ateyna en ik ben 22 jaar. Ik ben in Nederland geboren en op mijn 16 jarige leeftijd ben ik naar Turkije verhuisd. Ik volg nu een engelstalige opleiding namelijk, Internationale handel en Financiën.
Ik ben altijd al een nieuwsgierig persoon geweest die houdt van praten. Ik wilde altijd werk vinden waar ik voornamelijk mensen kon helpen, begeleiden en vertalen.
Ik heb eerder parttime gewerkt als tolk bij een ander haartransplantatie bedrijf. Met het stoppen met die baan die ik destijds had bleef ik maar steeds uitkijken om weer in een haartransplantatie sector terug te komen.
Lees meer over Ateyna
Uiteindelijk ben ik Lieselotte tegengekomen en werk ik nu met heel veel plezier voor Hair Clinic Wolf. Hier ben je echt geen nummer, wij behandelen iedereen met een hele persoonlijike benadering. Dit vind ik erg leuk.  
Als jij ervoor kiest bij Hair Clinic Wolf jouw haartransplantatie te ondergaan, dan zie ik er naar uit om jou te begeleiden.  Tot snel 🙂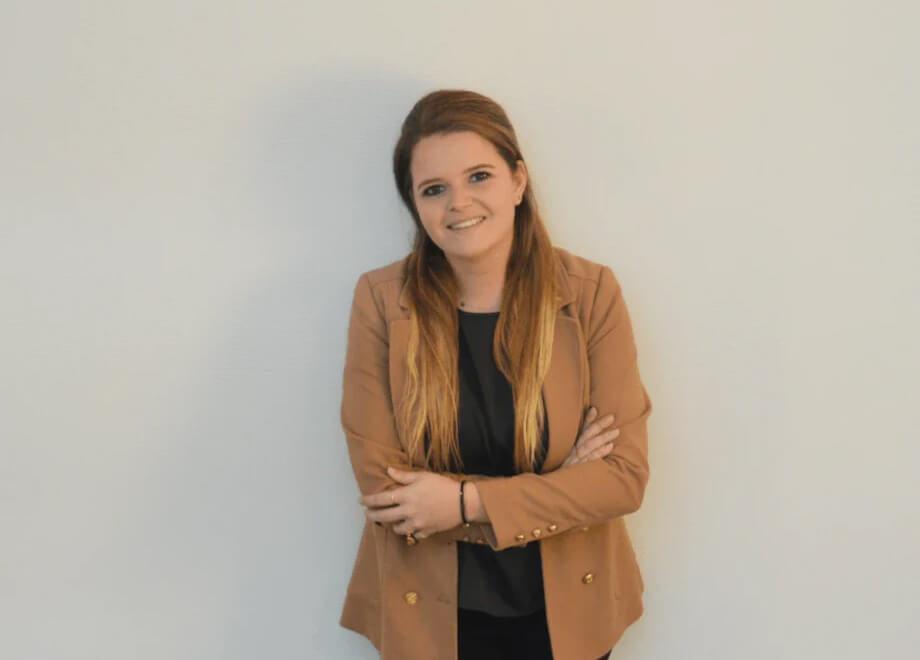 Lieselotte
In 2014 startte ik mijn studie; Logistics Engineering. Tijdens mijn logistieke studie heb ik altijd de uitstap gemaakt naar zorglogistiek. Hierin is er een onderscheid tussen patiënten- en goederenlogistiek. Mijn interesse lag vanaf het begin al bij de patiëntenlogistiek. Ik ben een mensen mens, ik vind het prachtig om te zien dat iemand zijn/haar zelfvertrouwen weer terug krijgt!
Toen Arco zijn haartransplantatie onderging, heb ik dit op de voet gevolgd. Als buitenstaander maak je de transplantatie op een andere manier mee, maar ook ik had mijn verbeterpunten. Wanneer je iets aan jezelf laat veranderen, is het aller belangrijkste dat je op ieder moment op je gemak gesteld wordt, er geen twijfel ontstaat en dat je altijd weet bij wie je terecht kunt voor eventuele vragen. Ook vind ik dat je niet aan je lot overgelaten moet worden. Daarom blijven wij altijd met je in contact, vanaf het begin tot het einde.
Lees meer over Lieselotte
Door met Taner in contact te komen, weten wij dat er ook een andere kwaliteit en focus bestaat. Wij staan alle drie voor de persoonlijke, eerlijke en transparante aanpak. Wij vinden het bijvoorbeeld belangrijk dat je vooraf kennis kunt maken met de behandelend arts. Je kunt namelijk nog zo'n goed en fijn gesprek hebben met een van ons als adviseur, alleen Taner is degene die de haartransplantatie uit gaat voeren. Wij vinden het belangrijk dat je ook een goed gevoel hebt bij Taner.
Heb je vragen? Ik zie er naar uit deze voor je te beantwoorden. Op naar een volle bos haar!
Hello! We are Hair clinic wolf
hair transplant specialist
As a specialist in the field of dermatology and hair transplantation, we know what is important when you are considering a hair transplant. We work with a simple formula:
First of all, clarity and transparency are of paramount importance to us. You will receive all the information and the opportunity to have any questions answered.
In addition, we think it is important that you know who to contact with all your questions. With us you have one point of contact, your advisor.
Finally, expertise and professionalism are important values at Hair Clinic Wolf. Our Dutch team and Turkish medical professionals guide you during all phases of the treatment and during the follow-up phase.
Hair transplant at Hair Clinic Wolf
Hair transplants are much more common today than they were a few years ago. Surgeons can now also guarantee the quality of a treatment to a high degree. Everyone can enjoy a full head of hair again!
Today, most hair transplant surgeons work in Istanbul, where lower rates are charged. Because the costs for such treatment are usually not reimbursed, it is logical from a quality and cost perspective to undergo a hair transplant in Turkey. After all, it is only a three-hour flight from Schiphol.
Hair Clinic Wolf specializes in facilitating this process, with medical professionals who are passionate about their profession!
Your surgeon
Licensed, certified
English speaking
Your direct contact regarding your aftercare process
the HAIR TRANSPLANT DEPARTMENT
High-quality, modern facilities
Located in Istanbul, Turkey
At 5 minutes away from your hotel
Your Dutch specialist
Extensive knowledge about hair transplants and dermatology
Available on working days until 21:00 and Saturday until 17:00
FUE treatment
Worldwide the most popular and applied treatment method and  gives a beautiful, natural result.
DHI treatment
DHI is an abbreviation for Direct Hair Implantation. It is a technique where the hair does not have to be shaved.
PRP treatment
Healthier hair follicles ensure a longer lifespan of the hair and an improvement of the hair quality.
Marijn V.

Very well organized from start to finish! Lieselotte personally came to my home to explain the entire procedure surrounding the hair transplant in Istanbul. I was walked through each specific step (visually) and was able to ask the necessary questions.
In Istanbul, everything was well organized; at the airport I was picked up by a driver and dropped off at the hotel which was otherwise fine (the hotel was clean, the staff helpful, and the food fine).
The next day I was driven to the university hospital for treatment. The doctor, Taner, received me there kindly and spoke very good English. The hairline was drawn and slightly corrected at my request. Although I had some doubts at first whether the hairline would look 'natural' enough, luckily this turned out to be the case afterwards. Taner also said that this may have been the most important criterion for him for the hair transplant. After drawing the hairline, some specialists removed the hairs from the donor area. The planting of the hairs was performed by Taner and another experienced specialist. The entire treatment was painless thanks to the anaesthetic, but it was quite a long session (~8 hours). The younger specialists spoke Turkish to each other at that time, which makes sense, but because you don't understand it, in combination with the long seat, it was somewhat tiring for me.
After the treatment, the driver took me back to the hotel and both Taner and Lieselotte checked regularly via the app over the next few days how I was doing. After three days and a PCR test at the hotel, the driver took me back to the airport in the direction of Amsterdam. The recovery is now going well at home. Sleeping with the neck pillow is not ideal, but I don't think there is much that can be done about that. We will have to wait and see what the result will be in the near future, but I have every confidence in it!
A. Boerekamps
After having intake interviews at Dutch clinics, I came into contact with Lieselotte from Simson's Hair (later Hair Clinic Wolf). It felt very good and familiar from the first moment. I got extensive information and I was immediately out. At Simson's hair I went to do the hair transplant.
I have had contact with Lieselotte at least 30 times about anything and everything, all my questions were patiently answered.
July 30 I went to Turkey with a friend. From the beginning to the end I experienced the involvement and expertise of Lieselotte and the team in Turkey. The doctor Dr. Taner once again explained how the day would go and drew the hairline in consultation with me. My girlfriend was also involved and informed. The anesthetic was not pleasant, but I did not feel any pain at all. A long day, with lunch in between.
Hotel was very neat with very friendly staff and a nice spacious room. The food was good too. August 2 ablution and we were taken back to the airport. Even at home I still feel the involvement. I am so enthusiastic about Simson's hair that I wish it on everyone who is thinking about a hair transplant.
I. Cohen

Had a hair transplant a month ago through simson's hair (later Hair Clinic Wolf). The intake with Lieselotte went very well and the contact afterwards was also great. There was a lot of contact and I could always ask questions.
All transport and facilities were super arranged and prepared, both in the Netherlands and Turkey. This includes instructions, taxi, hotel, etc. The treatment itself, led by Taner, went very well. Again clear instructions and put at ease (good English) and hardly had any pain. A month later, no problems at all and looking very good! Highly recommended for everyone!!
M. Lobbes

On the advice of via , and after already hearing a positive experience, I decided to go to this clinic myself and it was more than worth it.
Super good guidance, personal follow-up process and the Doctor himself and the team were very friendly and walk you through the treatment. Aftercare is still very involved and you can always reach someone if you have any questions or concerns. You will be taken care of before, during and after the treatment!
M. Klinkenberg

On December 11, 2020 a hair transplant was done at simsons hair, later Hair Clinic Wolf. From the consultation to the aftercare, everything was perfectly arranged. Lieselotte knows what she is talking about and is clear and honest, the doctor in Turkey (Dr Taner) and his team are very friendly and work professionally. Now 7 months later and more than satisfied with the recovery and the process. Definitely recommended if you are looking for an honest and professional clinic for a hair transplant.
J. de Klerk

Top service. From transport in Turkey to English-speaking guidance in the clinic, everything is arranged down to the last detail. In particular, big compliments for the possibility of easily accessible contact with Lieselotte. I could go to her with all my questions and so I never felt insecure for a moment. Highly recommended!